Gallery
You will find below some illustrated examples of the typical subjects which are treated in the microwave department.
Video
Running SmartSensing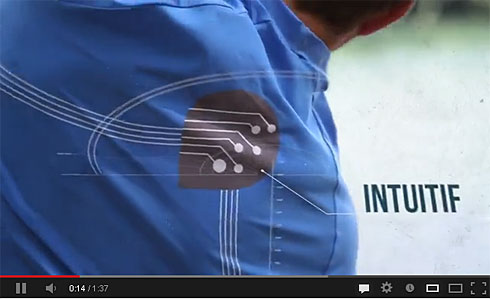 Complex dielectric permitivity characterization at milimeter waves (presentation in french)
Electromagnetic RF antenna modeling
EM Studies of electrical characteristics and normalized security distance in front of a 8 Ghz parabole antenna with its rectangular waveguide feeder. File import from mechanical CAD necessitates appropriate healing and specific electromagnetic calculation techniques in order to reduce the important required computational resources.  

8 GHz parabol antenna including rectangular waveguide feed: dynamic electromagnetic near field simulation and far field radiations
Radio coverage prediction and EM field measurements
Radio field measurements in the Brest area during the Iroise project (French ANR/RNRT contract) for accurate propagation map predictions and QOS WiMax/Wifi continuity performance studies, in collaboration with the Siradel company. Below is a native modeling of the Microwave department offices using an advanced industrial network planning tool that we use for out-door, urban and in-door coverage predictions involving empirical models and ray tracing techniques with doppler effect computations.  
Campus indoor/outdoor mixed radio coverage using ray tracing