November 2014
Le projet 3DC2 Rapid DGA, dans lequel sont impliqués les départements d'Optique et LUSSI de Télécom Bretagne, apparaît en ouverture du reportage de TF1 du 23.11.2014 sur le forum DGA  :

http://videos.tf1.fr/jt-we/2014/ces-innovations-qui-pourraient-etre-utilisees-par-l-armee-et-8523197.html
July 2014
Workshop on Sustainable Digital Cities, July 11, 2014
A workshop on Sustainable Digital cities will be organised on July 11, 2014 (8:30-12:30) in Salle Méridienne at Telecom Bretagne. Prof. Trevor Hall (University of Ottawa, Fellow of Telecom Bretagne)  and Dr. Loutfi Nuaymi (Telecom Bretagne - RSM) will be talking about Digital Cities and Mobile Networks with enhanced Energy Efficiency.

For more details, please download the official programme [.pdf] - Agenda | Slides
February 2014
First experiments for a Wi-Fi access in the tramway in Brest
Within the framework of ongoing project CapilRTram, the Optics Microwave and Network-Security-Multimedia Departments will assess the feasibility of a Wi-Fi access solution in mobility within the tramway carriages in Brest.

The proposed solution exploits a future-proof optical distribution network dedicated to the interconnection of tram stations with high capacity. Wi-Fi links at 5.8 GHz  compliant with the IEEE 802.11a standard provide communication between stations and carriages in motion. Wi-Fi coverage at 2.4 GHz in provided inside carriages in compliance with the IEEE 802.11 b/g standard.
The main problems to tackle range from radio engineering including (regulatory and propagation issues) to network aspects such as managing mobility by means of adapted roaming mechanisms. The use of radio modules embedded in the carriages will enable the minimisation of electromagnetic emissions and energy consumption of mobile terminals. 

At present, only three stations in the centre of Brest (Château, Siam, Liberté) and two carriages have been equipped.  The first experiments  will take place onboard between February 20 and March 20, 2014 to test the solution under real conditions. 
This project is carried out in close collaboration with ALSTOM, KEOLIS, MOXA and with the support of  the municipility of Brest (BMO). It draws upon the  experimental platform CapilR specialising in  Radio-over-Fibre and All Optical technologies for wireless access. It gave birth to several student projects for research and education purposes. 
Contact : Frédéric LUCARZ
email : frederic.lucarz@telecom-bretagne.eu |Tel. +33 (0)2 29 00 14 91
October 2013
Presentation by Prof. Ricardo RIBEIRO - 17.10.2013
Ricardo Ribeiro, professor at the Federal University of Fluminense (Brazil) presented the results of his research activities that he carried out during his sabbatical stay at the Optics Department since August 2012.

His main contributions relate to the development of an All-Photonic Digitising/Analogiser Radio-over-Fibre Transceiver - Download slides
Inaugural Lecture by Prof. Trevor HALL - 07.10.2013
Trevor Hall, holder of the International SISCOM Chair 2010-2011, professor at the University of Ottawa (Canada), gave his first lecture as a Fellow of TELECOM Bretagne on "The Talbot Effect,Luneburg Lenses & Metamaterials: Beauty, Elegance, Ingenuity & Practical Application" - Abstract - Download slides
February 2013
Best poster and PhD awards "Futur & Ruptures" 2013
1. The Optics and Microwave team received the best poster award for the presentation of a study carried out by Giang Hoang Nguyen on the evaluation of radio-over-fibre transmissions techniques from an energy consumption viewpoint.

This post-doctoral work was supervised by Frederic Lucarz at the Optics Department and was financially supported by Institut Mines Telecom (Fondation Telecom) in 2012 within the framework of the "Futur & Ruptures" research programmes. 
2. Omid Zia Chahabi a été récompensé pour ses travaux de thèse intitulés « Techniques de traitement numérique du signal pour les systèmes de transmission optique ultra haut débit à détection cohérente », co-encadrés par Christophe Laot, Raphaël Le Bidan et Michel Morvan.
January 2013
Annals of Telecommunications - Special Issue
The Optics and Microwave team coordinated the special issue of Annals of Telecommunication, Feb. 2013, Volume 68, Issue 1-2 on Radio-over-fibre for green wireless access networks.
Guest editors: Patrice Pajusco, Frederic Lucarz (Telecom Bretagne), John Mitchell (University College London), Trevor Hall (University of Ottawa)
November 2011
COST ACTION OPTICWISE 2011-2015
The Optics Department is a member of the Management Commitee of European COST Action IC1101 on Optical Wireless Communications : OPTICWISE
October 2011
Presentation of the results of the International SIScom Chair on "Green Technologies for the next generation of Wireless-over-Fibre Access Networks" at the 2ème Conférence de la Recherche de l'Université Européenne de Bretagne in Vannes  (France) on October 14, 2011.
June 2011 
Du WiFi dans le futur Tram (Brest)

Le Télégramme - 15

Juin 2011 à 17h04
En marge d'un colloque sur les technologies vertes radio-sur-fibre, l'école Télécom Bretagne présentait, hier, un dispositif prometteur unique en France. Ce projet baptisé « Capil'R Tram », permettra d'offrir un accès WiFi aux utilisateurs du tramway brestois. Les discussions pour déployer cette technologie sur le futur tramway brestois seraient déjà bien avancées avec Brest Métropole Océane. Les premiers essais sur le terrain sont envisagés pour septembre 2012.
Les applications envisagées par Télécom Bretagne ne se limitent pas qu'à l'utilisation d'internet en situation de mobilité. Ce réseau mêlant un câblage en fibre optique le long du trajet du tramway et de nombreuses bornes offrant un accès sans fil pourrait également permettre de retransmettre les vidéos générées par « l'arbre emphatique », l'œuvre d'art du Barcelonais Éric Ruiz Geli qui verra le jour pour le lancement du tram, rue de Siam.
Source : Le Télégramme
Contact : Frédéric LUCARZ  Optics Dept.
Tel. +33 2 29 00 14 91
Frederic.Lucarz@telecom-bretagne.eu
Projet CapilRTram : le WiFi dans le futur Tramway de Brest
Ouest France - 15 Juin 2011
Le département d'optique de Télécom Bretagne travaille depuis 2008 sur la plate-forme CapilR, chargée d'offrir la meilleure couverture wifi possible aux Brestois, par le système de la fibre optique. Depuis quelques mois, les ingénieurs travaillent sur un projet issu de cette plate-forme, le projet CapilR Tram, en accord avec Brest Métropole Océane, qui a déjà installé des bandes de fibre optique aux abords des stations.
« CapilR Tram permettrait d'assurer une connexion wifi aux futurs usagers du tramway, explique Frédéric Lucarz, ingénieur de recherche au sein du département optique et en charge de la plate-forme CapilR. Tant dans les rames, qu'aux alentours des stations. » Les usagers pourraient alors obtenir, en se connectant, des informations culturelles comme « des expositions », mais également économiques. « Ils pourraient recevoir des offres promotionnelles des magasins devant lesquels leur rame passe ».
La difficulté est qu'il faut « assurer une communication wifi entre une rame en mouvement et les stations, qui elles, sont fixes ».
Les ingénieurs du département d'optique de Télécom commenceront les premiers tests hors laboratoire vers septembre prochain.
Source : Ouest France

Contact
We are pleased to announce that we will be organizing an international Symposium on Green Wireless Access Networks at Telecom Bretagne on June 15-16-17, 2011.

Key  international experts will be invited to this unique event to address radio-over-Fibre and all-optical wireless technologies with reduced environmental impact for enhanced wireless access. If you would like to participate or contribute to this event, please refer to the event official webpage for more information. 
Contact : Frederic.Lucarz@telecom-bretagne.eu
May 2011
Best student oral presentation at EOSMOC 2011
Optics Department PhD student, Miss Aurélie CHAN YONG (1, 2, 3), received the best student oral presentation award at the 2nd European Optical Society (EOS) Conference on Manufacturing of Optical Components (EOSMOC 2011) for her presentation on "Rapid prototyping of diffractive optical elements in microstructured sol-gel hybrid material", co-written by Kevin HEGGARTY (1, 2), Christiane CARRE (1, 3) and Denis BATTAREL (4).
(1)   Université Européenne de Bretagne (UEB)
(2)   Institut Telecom – Telecom Bretagne – Optics Department
(3)   CNRS, Laboratoire FOTON (UMR 6082)
(4)   HOLOTETRIX Company
EOSMOC was held from 23th to 25th May, 2011, under the umbrella of the World of Photonics Congress 2011 at the International Congress Centre in Munich (ICM), Germany.

This award was sponsored by Springer and given by the EOS President Hervé Lefèvre and the Conference Chairs Klaus-Friedrich Beckstette (Carl Zeiss AG - Germany) and Paul Comley (Cranfield University - United Kingdom) during the EOS and Photonics21 Student Reception.
 
May 2011
Inauguration of the ARAGO Centre
Description of the ARAGO Centre
March 2011
Portes Ouvertes, Télécom Bretagne, March 17, 2011

We will be presenting some activities on the following topics :

6 high-definition video streams were transmitted simultaneously from a video server (left) to a client machine (right). Transmission was performed over a 10-km single mode fibre (SMF) link followed by a 2.5m optical wireless path using infrared lightwave at 1550nm. Commercially-available optoelectronic transceivers including a laser source and a photodiode were used for converting the signal from the optical domain to the electrical domain and vice-versa.

Contact : Frederic.Lucarz@telecom-bretagne.eu

January 2011
December 2010
Laser and Communication Workshop

The Optics and Microwave Departments participitated in the Workshop on "Lasers and Communications", organized at ParisTech in Paris on December 15, 2010 to celebrate the 50th anniversary of the invention of the Laser.
Prof. Trevor HALL gave a presentation on semiconductor laser sources of millimetre-wave carriers for radio-over-fibre systems. His presentation is now available for download: [.pdf]

click on image above to preview the first slides
Hexin LIU (PhD student) presented a poster on the improvement of RF parameters of a laser source for wireless-over-fibre applications. His poster is  now available for download: [.pdf]
Contact : Frederic.Lucarz@telecom-bretagne.eu
November 2010
SISCOM Chair Inaugural Lecture
Prof. Trevor HALL addressed some major issues pertaining to Green ICT in a talk that he gave at Telecom Bretagne on November  9, 2010, giving insight on how photonic technologies can bring broadband to all and save the planet. His presentation is available for download: [.pdf]. 
Contact : Frederic.Lucarz@telecom-bretagne.eu 
October 2010
Fête de la Science 2010 
Professors and doctoral students at the Optics Department performed public demonstration of  an all-optical wireless transmission system for the distribution of high definition videos in Brest on October 21-24 at Fête de la Science 2010.
Contact : Frederic.Lucarz@telecom-bretagne.eu
August 2010
Miss Emilie BIALIC received the best student poster presentation award at the 5th European Optical Society (EOS) Topical Meeting on Advanced Imaging Techniques (AIT 2010, 29 June - 2 July 2010, Engelberg, CH), for her presentation on "Spectro-imaging properties of annular diffractive axicons" (see details page 6). www.myeos.org/download/newsletter/EOSNewsletter_July2010.pdf
July 2010
Professor Trevor Hall appointed to the International Chair of SIScom
Professor Trevor Hall, Director of the Centre for Research at the University of Ottawa and Emeritus Professor of Optoelectronics at King's College London (UK), holder of Canada Research Chair Tier I, was appointed, for one year, to the prestigious international chair of SIScom at the Université Européenne de Bretagne.

He joined Télécom Bretagne on July 1st 2010 as a visiting professor at the Optics department. Trevor Hall will bring his expertise in the field of photonic technologies for future wireless access networks of reduced environmental impact.

Trevor Hall will contribute in particular to the design and implementation of an innovative laser source for optical generation of millimetric waves (60 GHz) destined for use in broadband radio-over-fibre transmission networks.

Trevor Hall will also be closely involved in the optimisation of energy consumption in hybrid networks and techniques of sustainable energy sourcing which use solar energy from high yield energy producing photovoltaic cells.

For this task, Trevor Hall will take part in the research activities of the Optics Department, such as the development of the CapilR platform (specializing in radio-over-fibre technologies) and will also contribute to the Growth project (Green Optical Wireless To The Home).  
Contact : Frederic.Lucarz@telecom-bretagne.eu
June 2010
Jean-Louis de Bougrenet, Head of the Optics Department and founder of Eyes Triple Shut gave a talk on "Launching technology start-up companies in France" at a symposium on "Reconstructing our Economy"  organized by Fondation IFRAP on June 1st 2010. This event was held at the Ministry of Economy and Finance in Paris under the patronage of Christine Lagarde and in the presence of Hervé Novelli. You may watch this talk by clicking on the video below:
(For a quick access to the talk, select chapter entitled "l'amorçage pour les start-up technologiques en France"; corresponding position of time cursor 2h:19mn-2h:34mn).
Note : Microsoft SilverLight is required to launch the video. 
Presentation slides are also available: PDF presentation
April 2010
We are glad to announce that the article entitled High-resolution and compact refractometer for salinity measurements (published in Measurement Science and Technology, Vol 20, No 1, 2009) has won the award for Outstanding Paper in the "Sensors and Sensing Systems" category for 2009. The prize was awarded by the Editorial Board amongst all the papers published in the journal in 2009.
The proposed salinity sensor has been packaged by IFREMER and is  now used in a series of measurements carried out on the IFREMER  ship "Pourquoi Pas". The result of these measurements will be used for updating the salinity reference charts. 
The patented sensor will be manufactured by a NKE Electronics who has already contracted two patent licenses.
January 2010
Distinctions : Le département Optique reconnu pour la valorisation industrielle de ses recherches sur les cristaux liquides.

Jean-Louis de Bougrenet de la Tocnaye, chef du département Optique et créateur de la société E3S, spécialiste en lunettes à cristaux liquides pour visualisation 3D, est finaliste du Prix Chéreau-Lavet.
Le prix de l'Ingénieur-inventeur Chéreau-Lavet est décerné, chaque année, à un ingénieur français qui a fait preuve d'une démarche inventive constante assurant des retombées techniques et sociales reconnues.
December 2009
E3S spin-off company is proud to show to the press its new lineup of active 3D glasses on December 18, 2009, 11 am  at the "Club de L'Etoile" in Paris. [pdf-FR]
November 2009
L'optique, une trans-discipline dans le contexte de la vie numérique [pdf-FR]
Optics, an inter-disciplinary subject in the context of digital life [pdf-FR]
October 2009
Telecom Bretagne has created, in partnership with Brest Métropole Océane (BMO), a dedicated workplace named "Espace ARAGO" [pdf-FR] to facilitate access to its technological platforms, thereby enhancing synergy between research laboratories and the industrial environment.
This workplace will be hosting on the Technopole, 3 platforms and 2 spin-off companies all originating from Telecom Bretagne, including Eyes3Shut (manufacturing 3D active glasses) and Holotetrix ( manufacturing diffractive optics).
Our main objective is to create a favorable environment  for strengthening cross-fertilization between academia and industry.
"Espace ARAGO" is now open to any academic or industrial partners willing to benefit from technical facilities and expertise.
 
September 2009
25-09-2009: The Optics Department took part in Researcher's Night 2009 at Océanpolis in Brest where we presented an innovative opto-electronic device for measuring salt concentration in sea water. 
© Océanopolis / Thierry Joyeux
Contact : Frederic.Lucarz@telecom-bretagne.eu


18-09-2009: John Mitchell, senior lecturer at University College London gave a talk at Telecom Bretagne on "Radio-over-Fibre Technniques and their Applications".  
June 2009
The Optics Department in partnership with Eyes3Shut brought its expertise and technical assistance for the 3-D projection of the Mozart opera, Don Giovanni, on June 2nd at la Carène (Brest), by providing the 3-D active glasses required to watch the performance in 3-D relief. Presentation available in French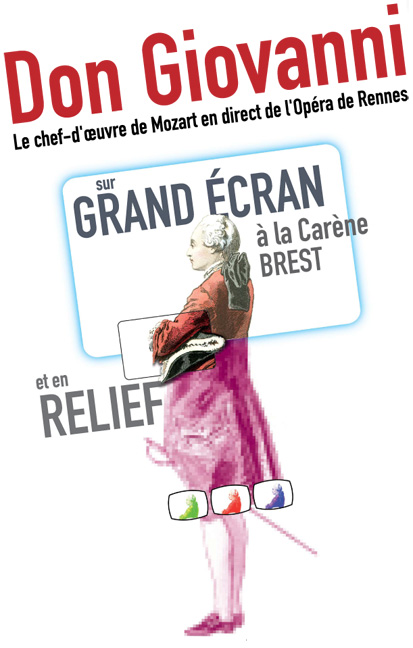 March 2009
 HOLOTETRIX
Jeune pousse née il y a moins de deux ans dans le cocon de Télécom Bretagne, Holotetrix s'est spécialisée dans l'optique micro et nanoscopique. Quand d'autres se lancent sur les marchés de masse du téléphone portable et du lecteur de disques optiques, la start-up bretonne choisit l'industrie comme terrain d'épanouissement, particulièrement dans les secteurs du soudage, du perçage et de la gravure. Voir l'article
January 2009
The paper "High-resolution and compact refractometer for salinity measurements" by D. Malarde, Z.Y Wu, JL de Bougrenet de la Tocnaye, M. Le Menn has been selected by IOP Select for its novelty, significance and potential impact on future research.
The full paper is available here.
October 2008
Damien Malardé, Ph.D student, has received on October 21, 2008 the Rudolf Kingslake Medal & Prize SPIE 2007 for his work on "Truncated Gaussian beams through micro-lenses based on a graded index section".
Brest, 11-17 Juillet 2008
Damien Malardé, doctorant au département Optique, s'est fortement impliqué dans Brest 2008. Il a représenté TELECOM Bretagne, du 11 au 17 juillet, sur « Littoral, le village des sciences et de l'innovation » coordonné par le pôle Mer Bretagne où il a tenu un stand sur la mesure de la salinité des océans.
21-23 May 2008
Brest, October 2007
Telecom Bretagne crée, autour de son département d'optique, un micro-réseau de PME innovantes... 
Voir l'article: Un micro-réseau de PME innovantes
 

Brest, 29th March 2007

 
The e-Photon/ONe+ Summer School 2007, jointly organised with the COST 291 action, will take place from 16th to 20th July 2007 at the Télécom Bretagne in Brest, France (partner GET). The school will consist of :
Tutorials given by invited teachers and experts.
Presentations of submitted papers.
The school is open to all participants from e-Photon/ONe+, COST 291 and to those outside the project.
Contact person: K.Heggarty
Brest, 29th March 2007
"La sécurité dans une école d'ingénieur: tous concernés"

Présenté par Fernand Wieder, ingénieur recherche CNRS.   
Contact: C. Carré
Paris, December 13th 2006
Holotetrix the latest optic department spin off is laureate of the GET Louis Leprince-Ringuet fondation award and is in the final stages of the national OSEO competition for the creation of technologically innovative new companies.
Contact person: Jean-Louis de Bougrenet de la Tocnaye
Brest, 1st June 2006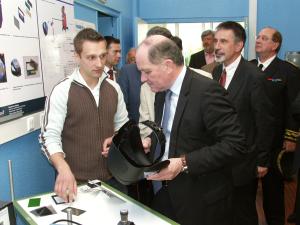 François Goulard, French Minister for Research, visiting the Optics Department
François Goulard, French Minister for Research, visited the Optics department, testifying to the high international rank of the research carried out at the Télécom Bretagne, in the field of Liquid Crystal applications and the dynamism of the technology transfers to industry. A demonstration of the first welding mask prototype developed in collaboration with the Télécom Bretagne spin-off Lixys was presented to the Minister in the presence of local and national dignitaries.
Rennes, 20th April 2006
The Optics department of Télécom Bretagne (UMR CNRS FOTON) together with the Institut d'Alembert have co-organized the FOCAL seminar on the topic "Photostructuring of organic materials: optical and electro-optical effects".
Contact person: C. Carré
Brest, 1st April 2006
professor J.L de Bougrenet de la Tocnaye receiving the SPIE Technical Achievement Award
Brest, 26-27th October 2005
Technologies and architectures for all-optical telecommunication networks have been a topic of intense research for more than ten years now, dealing with issues such as : optical transmission at the physical layer, optically transparent network areas, protection and restoration schemes, multiple switching granularity (i.e. WDM and OTDM) and inter-networking between transport and control layers. While optical WDM transmission has been shown to be efficient and cost-effective in long-haul links, the situation is different in metro and access networks, where the unpredictable nature of traffic demands as well as more stringent economics and competing technologies have precluded wide-scale deployment of optics in these areas. The e-Photon/ONe field of activities is a good illustration of this wide spectrum of knowledge and expertise. This European network of excellence involves about 40 institutions including universities, research centres, operators and manufacturers to promote research and education integration in optical networking in Europe.
Contact :  Bruno Fracasso